Patient Information
Charlick, Springstead & Wilson Dental Associates, P.C. has provided a full range of family dental services in Brighton, MI since 1962. We are proud to be locally owned and operated, and to provide consistent, high-quality care to individuals and families from throughout the area. Our dentists and staff are committed to providing patients with the care they deserve in a warm, welcoming and family-friendly environment. We accept patients of all ages.
Your First Visit
Since our beginning, we have been dedicated to outstanding patient care. Our office is inviting and has a child's area in the waiting room. Our staff members are knowledgeable and friendly, and are here to answer any questions you may have. In order to provide all patients with comprehensive, convenient care, we have extended evening hours and take Saturday appointments.
During your initial visit, we will take some time to review your dental health records and get to know you and your goals for your smile. Our dental health professionals will complete a full evaluation of your mouth, jaws, and teeth, as well as take x-rays. This information will help us create a personalized treatment plan for you.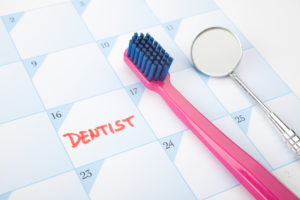 Once your examination is complete, we will address any concerns you have and answer your questions.
What to Bring to your First Appointment
To provide you with prompt dental treatment, please be sure to bring the following when you visit our practice for your initial visit:
Insurance Information/Card
Photo Identification
Any medical records pertaining to your visit
Please arrive 15 minutes before your scheduled appointment time to fill out necessary paperwork.
Appointments
Once you make an appointment at our office, that time will be reserved for you. If, for some reason, you are unable to keep your scheduled appointment time, call us as soon as possible to reschedule. This also allows us to allocate your appointment time to another patient.
Insurance
We accept most dental insurance plans. Please familiarize yourself with your insurance plan, paying close attention to co-pays. Our office staff will prepare all the necessary forms for your dental benefits. However, we remind you that your specific policy is an agreement between you and your insurance company.
Please know that you are responsible for your total obligation should your insurance benefits result in less coverage than anticipated. We do not render our services on the basis that insurance companies will pay all of our fees. We base our treatment on what is best for you.
Payment
Payment is expected at the time services are rendered, unless other arrangements have been made. This includes any co-payments or deductibles (amount not covered by your insurance).
Our office accepts cash, personal check, Visa, Discover, MasterCard, American Express and CareCredit.
AFTER HOURS AND EMERGENCY CALLS
We know that emergencies arise at all hours of the day and strive to keep a dentist available for our patients. If a true emer­gency occurs please call the dentist you are a patient of. The follow­ing is a list of their home numbers:
For more information or questions about our office policies or to schedule an appointment, please contact our office today at 810-229-9346. We are here and happy to answer any questions you may have about your treatment.
We provide estimates for treatments upon request.